Practice Areas / Wrongful Death
Wrongful Death Attorney Omaha NE
We Answer
your questions about the law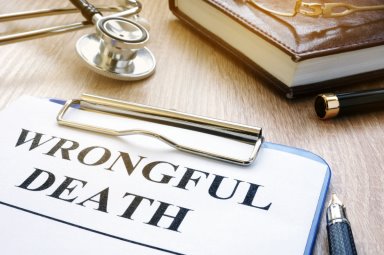 Losing a loved one is never easy. When you lose a loved one to circumstances that could have been avoided, it's even harder.
Unfortunately, negligent actions contribute to injury and death on a regular basis. You can't change the outcome of the situation, but you can seek justice through the court system.
If you've lost a loved one due to someone else's negligence, you might have a strong foundation for a wrongful death lawsuit. If you have a case, you could be entitled to receive generous compensation that will help you cover the cost of medical bills, funeral expenses, and lost income.
To find out if you have a case, contact a wrongful death attorney to discuss your situation. In the meantime, keep reading to learn more about wrongful death lawsuits.
The 6 most common wrongful death lawsuits filed in Omaha
There are several different types of wrongful death lawsuits people file in Omaha. These cases include:
Product liability lawsuits
Criminal lawsuits
Workplace accident lawsuits
Medical malpractice lawsuits
Car accident lawsuits
Commercial truck lawsuits
This list is not exhaustive. If you believe some else's negligence contributed to your loved one's death, contact an attorney even if the type of accident isn't on this list.
How are wrongful death lawsuits adjudicated?
Every wrongful death lawsuit is determined by proving several things, including proving negligence through breach of duty and proving damages. In a wrongful death lawsuit, the damages must be quantifiable. This is often the most challenging aspect of a wrongful death lawsuit.
However, certain types of damages are obviously quantifiable (like funeral costs), so it's not impossible to prove. Although, if you want to prove damages beyond funeral expenses and medical bills, you'll need plenty of evidence. For example, with the exception of medical bills and funeral costs, the following damages are a little harder to prove:
Pain and suffering
Loss of income and/or potential income
Loss of companionship
Loss of nurturing
Loss of protection
Loss of training
Loss of benefits, including health insurance, dental insurance, and pensions
Unfortunately, you can't claim punitive damages in a wrongful death lawsuit. Although, like most cases, you can recover court and lawyers' fees.
4 things to know before filing a wrongful death lawsuit
Before you file a wrongful death lawsuit, make sure you cover the following bases:
1. Hire a wrongful death lawyer
Don't risk pursuing a wrongful death lawsuit in Omaha by yourself. Self-representation is somewhat glorified by Hollywood, but it's not as easy as it looks.
Many judges have little patience for pro se litigants and don't always offer help. If you represent yourself, you will be expected to follow proper court procedure and having no experience won't be an acceptable excuse for messing up.
2. Keep great documentation
If you haven't already documented everything related to your case, start compiling your evidence. Start by creating a timeline of events that you can use to create an accurate statement when the time comes.

Once you have documented all the details including times, dates, potential witnesses, and any other important information, gather your media like photos and videos. Keep everything organized so you can find what you need quickly when you speak to a lawyer.
3. Be truthful
When you create your documentation and have your consultation with your lawyer, be truthful and don't misrepresent the facts. You don't need to exaggerate to be taken seriously. If there is any merit to your claims, it will become apparent to your lawyer.
When you have a good lawyer, they'll be able to construct a solid argument for your case as long as you are honest. Stretching the truth is never a good idea in the legal system, as one false statement can destroy your entire case.
Don't hesitate to file your lawsuit
Make sure you don't wait too long to connect with an attorney to get your lawsuit moving. In Nebraska, there is a two-year time limit to file a wrongful death lawsuit. This is noted in the Nebraska Revised Statute 30-810.
If you wait too long to file your lawsuit, you might not be able to file at all. Also, be aware that there are some circumstances that make that time limit even shorter. That's the best reason to contact a lawyer right away. Don't waste any precious time.
Contact a wrongful death attorney in Omaha right away
Every second counts. Don't wait any longer to get legal advice. If you've lost a loved one to someone else's negligence, contact an Omaha wrongful death lawyer immediately.
The legal system is highly complex and requires extensive knowledge and experience to navigate smoothly. Attorneys can help you create a solid case with convincing evidence far beyond what you could manage yourself.
Don't risk losing your lawsuit going pro se. If you want justice for your loved one, you need a wrongful death attorney to fight for you.
We Answer
your questions about the law