Practice Areas / Personal Injury
Medical Malpractice Attorneys in Omaha, NE
We Answer
your questions about the law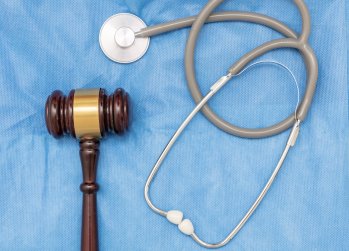 We entrust healthcare providers with our lives. We trust in their training, skills and experience to provide us with the best possible care. It can therefore be devastating to suffer injuries as a result of the failure of a medical professional to meet the standards of care expected of them.
Unfortunately, medical malpractice is more common than many people would like to believe. This type of misconduct can result in serious injuries or even death.  The law allows for victims of medical practice to seek compensation for their injuries and other damages.
When to file a medical malpractice claim
It is alarming to note that medical malpractice is now one of the leading causes of death in the US. It has been ranked after cancer and heart attacks. Medical malpractice results in the death of about 225,000 people every year.
Many victims of medical malpractice, however, aren't sure whether they should file a claim or not. They aren't sure whether their case qualifies as medical malpractice. The best thing to do is to seek the advice of medical malpractice attorneys. Get in touch.
We are experienced medical malpractice attorneys in Omaha. We will review the details of your case and help you determine the best action to take.
Some of the most common types of medical malpractice include:
This may include failure to identify a condition or misdiagnosing a condition. Either of this results in the patient not being able to get the treatment they need in good time. This can have deadly results.
This may include improper dosage of the right medication or administering the wrong medication. In either case, the patient's condition may worsen and this may lead to fatalities. Patients may also develop negative reactions to wrong medications, leading to other complications.
This may involve under or over administration of anesthesia. This can lead to patients suffering pain or can result in complications such as patients not recovering consciousness after the procedure.
These include injuries that may occur to the baby or mother as a result of the negligence of healthcare professionals.
These include errors made by healthcare professionals before or during surgery such as operating on the wrong part of the body or damaging an organ during the operation.
Medical malpractice can have serious consequences. It is therefore important for victims to hold healthcare professionals accountable for their mistakes and seek compensation for injuries and other damages resulting from malpractice.
What a medical malpractice attorney can do for you
If you or someone you love has suffered injuries as a result of the actions (of lack thereof) of a negligent healthcare provider, get in touch with us. We're experienced medical malpractice attorneys in Omaha. We'll represent you and fight to protect your rights to compensation.
Experienced medical malpractice attorneys will:
Deal with the insurance company
Seeking compensation for medical malpractice involves negotiating with the insurance company that represents the healthcare provider. Experienced attorneys are not intimidated and will not fall for the tricks that many of these insurance companies use to lower settlements or deny claims. Your attorney will fight to get you maximum compensation for your claim.
There's a lot of paperwork involved in filing a medical malpractice claim. It can be frustrating just trying to understand the legal jargon, let alone ensuring your paperwork is filed correctly. Mistakes in wording or filing can be costly.
Medical malpractice attorneys have in-depth understanding of the law. They also have extensive experience filing medical malpractice claims. They will handle all the paperwork including preparing claims and responses. You can rely on them to ensure that all your paperwork is in order.
Get you the best possible settlement
Medical malpractice lawyers have extensive experience representing victims of negligent healthcare providers. They will know how to estimate the value of your claim. They will also know the best way to approach your claim in order to get the best settlement possible.
An experienced attorney will consider your current and future needs. They will provide you with a strategy that will help you get the best settlement from the insurance provider while considering other possible sources of income such as workers' compensation and more.
Make use of their resources
An experienced medical malpractice attorney will have access to various resources that they can use to improve the outcome of your case. They will use their extensive network to investigate your claim and gather evidence. They will also have expert witnesses such as respected doctors to testify and strengthen your case. Hiring an attorney will help to improve the outcome of your case.
Your attorney will represent you not only in negotiations but also in court. You will have a professional and skilled ally fighting in your corner should your case proceed to trial.
If you or a loved one has been injured as a result of medical malpractice, get in touch with us. We'll fight to protect your right to compensation to the bitter end. We'll also ensure that the negligent healthcare provider is held accountable.
We Answer
your questions about the law