Practice Areas / Insurance Disputes
Should I Hire an Insurance Lawyer?
We Answer
your questions about the law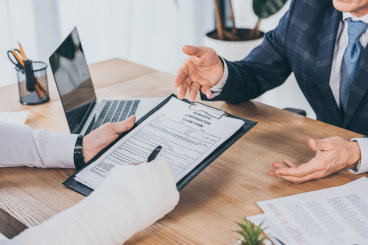 Do you want to make an insurance claim? While filing a claim is meant to be a simple and straightforward process, the process often becomes complicated and even overwhelming. Insurance law isn't as simple as many would like to believe.
Insurance companies take advantage of this to deny or lower claims. Hiring an insurance lawyer can help you get the support and guidance you need to navigate the claims process successfully.
There are many benefits to hiring an insurance lawyer:
They offer free consultations

Many people avoid consulting with or hiring attorneys because they believe that they cannot afford these services. However, many insurance lawyers offer free consultation. During your consultation, your case will be reviewed and the lawyer can provide you with information on your legal options. They will also help you determine the best approach to help you obtain maximum settlement for your claim.
They know how much your claim is worth
Many people who file insurance claims don't know how much they are worth. Insurance companies take advantage of this to offer them low settlements.
An experienced insurance attorney can estimate the value of your settlement. They will evaluate the circumstances of your case. They consider factors such as the severity of your injuries and the impact they have had on your life, lost wages, physical damage to property as well as your future needs. They will work towards getting you maximum compensation.
They understand insurance law
Insurance lawyers understand insurance law. They are also familiar with the legal process involved in filing a claim and obtaining compensation. They will know what legal options are available to you and advise you on the best approach for your case. They know the applicable statute of limitations and will ensure you can file your claim before time runs out.
Your attorney will also handle all communication with the insurance company. This includes completing forms, drafting responses and much more. They will ensure that the claim is filed properly and help you avoid any costly mistakes.
They are experienced negotiators
Negotiation is an important part of the claims process. Insurance lawyers have experience dealing with insurance companies. They know how to approach the insurance company in order to get fair compensation. They will not accept low offers from the insurance companies.
They will represent you in negotiations with the insurance company and fight for just compensation. They know what techniques to use to persuade the insurance company to give a better offer.
They will improve your odds
Insurance companies take advantage of the claimant's lack of knowledge and experience to give them a low settlement or even deny their claim altogether. Hiring an attorney will help to improve your odds of getting a just settlement.
An experienced attorney will not be intimidated or tricked by the insurance company's tactics. You can depend on their experience, knowledge of the law and skills to fight for maximum compensation. Having an experienced attorney fighting in your corner will improve your odds of getting a high settlement.
They will expedite the claims process
Insurance companies use delay tactics to avoid paying or lower settlements. For example, they may present you with a lot of paperwork in confusing legal jargon or stonewall you when you try to find out about the status of your claim. This can go on until the statute of limitations passes.
An experienced lawyer will help you get your compensation as quickly as possible. They will help you start the claims process immediately after your accident. They will handle all the paperwork and investigations so you can focus on recovering from your injuries. They will know the best approach to take to speed up the process and side-step setbacks. With an attorney fighting in your corner you will get your compensation much faster.
They will gather evidence
In order to file a successful claim, it is important to present evidence that supports your claim. Your attorney will help you gather the evidence you need to build a strong case. They will investigate your case and gather evidence such as official incidents reports and eyewitness accounts. They will also have access to expert witnesses such as doctors and specialists who can provide evidence if your case gets to court.
They will represent you in court

Many insurance claims do not get to the court stage. They often end with a settlement. However, if a settlement is not reached, your case will proceed to trial. An experienced attorney will provide you with professional representation. They will defend your case and refute the insurance company's efforts to deny your claim.
Hire an insurance lawyer
It doesn't matter whether you're just getting started with the claims process or are already well into the process; you can benefit from the assistance of an attorney at any stage of the claims process. Contact us today to discuss your claim.
We Answer
your questions about the law