Practice Areas / Accidents
Bus Accident Attorney Omaha
We Answer
your questions about the law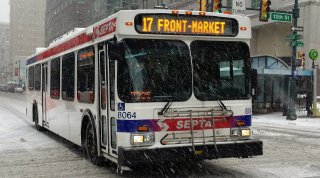 Injured In A Bus Accident In Omaha? You Deserve Full Compensation
If you've been injured in a bus accident, seek legal help right away. Don't burden yourself with the task of trying to figure everything out on your own. Stress will make your recovery more difficult. An experienced bus accident attorney in Omaha can help you navigate the difficult and often confusing process of obtaining the compensation you deserve, whether it's through an insurance claim or a lawsuit.
Buses Accidents Are More Common Than You Think
Public transportation is perceived to be the safest way to travel in a big city, but city buses aren't immune to accidents. The United States sees approximately fifty-five thousand bus accidents each year. Bus accident injuries are generally more severe due to a lack of seatbelts. Although if city buses and charter buses were built like a school bus, those statistics probably wouldn't be as high. Although school buses don't usually have seatbelts, they're actually quite safe in a crash.
School bus crashes are deadlier for pedestrians than bus occupants
Although they lack seatbelts, school buses are said to be one of the safest vehicles on the road. They're designed intelligently from the wheels up to minimize the impact of a collision. School buses are built with a stronger body with full-length impact rails at the shoulder, cushion, floor levels, and lower shirt levels. The floors are raised high enough that occupants sit above the impact zone of where a passenger vehicle would hit the bus in a crash. The windows of a school bus are small enough to prevent ejection, and the overall shape of the interior is smooth, round, and free from sharp edges. You won't find a square corner or uneven metal seams in the body of a school bus.
According to the National Highway Traffic Safety Administration (NHTSA), between 1998-2008, school transportation-related crashes killed 1,564 people, which averages out to 142 fatalities per year. Seventy-two percent of those fatalities were occupants of other vehicles involved in the crash. Twenty percent were pedestrians or bicyclists. Just eight percent were occupants in the school buses.
In the United States, an average of 19 school-age children die each year in school transportation related crashes, and most are pedestrians. Between 1998-2008, 149 school-age pedestrians (under 19 years of age) died in school transportation-related accidents. Sixty-nine percent were killed by school buses, 7% percent by other vehicles designated to transport students, and 24% by other vehicles involved in the crash. Nearly half (47%) of all fatalities were kids between the ages of 5 and 7.
Most people injured in a school bus crash involving another vehicle are not bus occupants. However, there are instances where driver error or hazardous road conditions contribute to a school bus accident that doesn't involve any other vehicles. For example, in 2001, a school bus on a narrow road in Omaha swerved to avoid an oncoming motor coach, passed through a three-rail barrier, and rolled 270 degrees clockwise while it fell 49 feet into a creek below a bridge. Three high school students and one adult died. The National Transportation Safety Board determined the cause to be the failure of the Nebraska Department of Roads to correct hazardous road conditions.
If you've been injured in a school bus accident, you're entitled to recover compensation for your injuries. Even if you're employed by the school or the company hired to drive the bus, don't just take what you're offered by an insurance company. You could be entitled to more compensation than you think. Contact a bus accident attorney in Omaha for a free consultation to find out what your case might be worth. You won't be doing yourself any favors by trying to deal with your case alone. When you've been injured, insurance companies don't have your best interests in mind. They want to pay as little as possible. You need an experienced attorney to fight for you where it counts.

The reason school buses don't have seatbelts
Federal law doesn't require seatbelts on school buses, but New York, New Jersey, and Florida have state laws requiring lap belts. For the rest of the U.S., instead of seatbelts, school buses rely solely on what is called "compartmentalization" for safety in a crash. Compartmentalization works because the seats are heavily padded with impact-absorbing material. The seats also have high backs, creating a safe impact-absorbing compartment designed to protect kids in a bus accident. Unfortunately, this method won't protect kids who are roaming around the bus, or when a bus tips over, but it works exceptionally well otherwise.
Despite statistics that seatbelts increase safety in passenger vehicles, research shows seatbelts on a bus may be less effective than compartmentalization. Seatbelts disperse the impact of a crash to the head and neck, while compartmentalization disperses the impact throughout the entire body.
Common causes for school bus, charter bus, and city bus crashes:
Alcohol and drugs, including prescription drugs that slow down nervous system response time
Speeding
Road hazards the bus driver is unaware of (like narrowed lanes for construction)
Road hazards created by other drivers (like debris)
Distracted driving (cellphone use by the bus driver or another driver)
Defective or failing bus parts
Driver negligence (not obeying road signs and traffic signals)
Public transportation bus accidents can be serious
Public transportation buses don't have seatbelts, and they don't provide riders with the safety of compartmentalization, either. The same is true for tour buses – they're not inherently safe. Unfortunately, tour bus accidents make the news all too often.
In 2017, the LA Times reported a driver for a private bus company from Queens, NY raced through a red light and slammed into the back of a city bus. The tour bus driver (a convicted drunk driver) and two pedestrians were killed. At the time of the accident, the bus company had a history of repeated safety violations across several states, prompting investigation by the Federal Motor Carrier Administration.
Records obtained during the investigation revealed other driver violations including possession of alcohol while on duty, inattentive driving, and failing to use a seatbelt. In 2003, the same company was involved in a crash that killed two and injured 28 when one of their buses spun off the road into an embankment.
Bus accidents like these can be avoided by improving hiring methods. For example, a background check would have revealed the driver's DUI conviction, and that would have been grounds to deny employment. Most companies whose employees are expected to operate a vehicle do extensive background checks and only hire people with a clean driving record. It's clear the company didn't do their homework and innocent people paid with their lives.
Unfortunately, there are no federal laws that require safety audits for private bus companies. Just because one driver breaks the law doesn't mean the company will be shut down even if they have sub-par hiring practices.
You put your life in a bus driver's hands – you deserve compensation
By boarding a bus, you put your life in the driver's hands. You didn't expect to be injured, but accidents happen. It's unfortunate, because now you've got to manage your injuries, take time to heal, and you probably can't go back to work for a while.
Unless you have a large savings account, it's going to be difficult and nearly impossible to survive financially without your full income. A bus accident attorney in Omaha can help you recover the compensation you deserve including medical costs and lost wages, so you can get back to living your life as soon as possible. Don't wait. Take the stress off your shoulders and contact an experienced lawyer today.
We Answer
your questions about the law