Practice Areas / Catastrophic Injury
Car Accident
We Answer
your questions about the law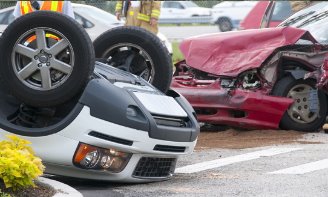 Car accidents occur every day, and thankfully many are just fender benders, and don't create too much damage to the vehicles or people involved. There are, however, times when this is not the case and the car accident is more severe.
If you've been involved in a car accident, you might want to consider hiring an attorney to help you through the process of recovering your losses, and help you navigate the legal process to minimize your stress and expenses.
Because the outcome of your case depends on you following any and all of the rules set forth by your insurance company based on the policy you purchased, your outcome may vary to a large degree if you don't know your rights, your responsibilities, and specifically what your policy covers.
What not to do after a car accident
After a car accident, make sure you don't just accept the first claim that is offered. This will almost always be a lowball offer that may not adequately cover your damages.
Also, don't sign anything at all without obtaining legal counsel. You may be asked to sign releases or waivers that will force you to accept a settlement that isn't fair to you, and will waive your right to add to the claim later if you discover more damage in the process.
You should not trust car insurance companies
Car insurance companies are notorious for hoping their policy-holders don't know what their policy is supposed to cover. For this reason, many insurance companies get away with denying claims that should have otherwise been paid out. They may deny your claim for no good reason, in hopes that you will be too tired to fight it.
This means that if you don't understand your policy in full (most people don't), and if you are unsure as to how to proceed when your insurance company denies your claim, you may lose your opportunity to recover the damages that are rightfully yours.
Hiring a car accident lawyer is your best protection
Depending on the specific circumstances of your case, you may be in a position where you are relying on your policy to cover some hefty damages. This means that without your insurance company paying these damages, if you had to pay them on your own, you'd be in serious debt for a very, very long time.
This is the exact reason why you need to hire a lawyer to handle your insurance claim for you. Insurance agents will respond differently to a lawyer than they will to the average person. The insurance companies know they can't get away with anything while talking to a lawyer.
You want to hire a lawyer so you don't end up navigating the system yourself. Don't run the risk of owing large amounts of money to another party that could have been preventable with the help of a lawyer.
We Answer
your questions about the law